Available 24×7 365 days

Residential Services

Commercial Services

Insurance Claims

Free Estimates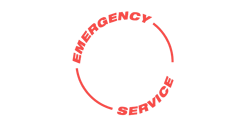 There can be many devastating effects due to water damage in the home. In order to understand the effects of water damage, it is important to understand how we define water damage. Water damage can be defined as unwarranted water intervening and settling into spaces where it does not belong. In simple terms, this means water moving, settling and lingering where it does not need to be. This water can occur in the ceilings, walls, closets, washing machines and home appliances to name a few. The water may also travel to the uninviting spaces as a result of a natural disaster, sewage invasion, flooding or a broken pipeline throughout or under the interior of a home or building as well.
The focus of water damage in the home is what will be addressed and the importance of addressing the water damage. The focus will also be on how water damage has many effects on the interior and exterior of a home, building or church. It may start off as a small spill or incident that can be resolved with simple cleaning or it could be a severe incident such as flooding as a result from a hurricane, but it is important to make sure the water damage stays contained and is completely resolved before you proceed to restore or cover up the area connected to the water damage.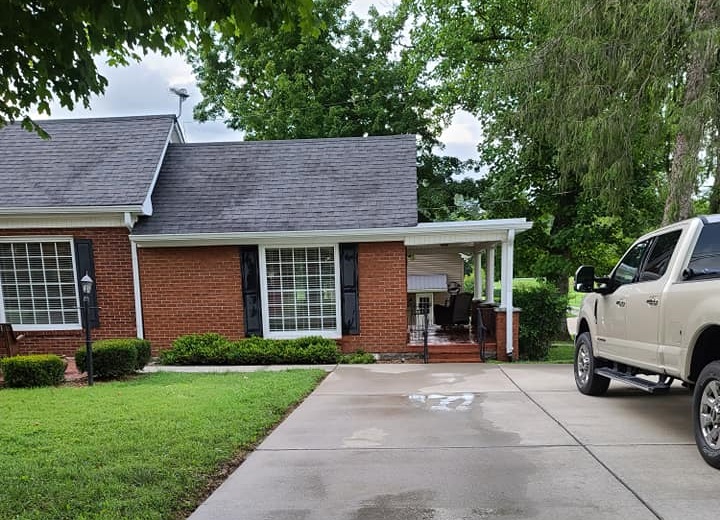 Water damage not only leads to the destruction of the building but contributes to the growth of mold and bacteria in various areas throughout the home which include, but are not limited to, the kitchen, bathroom, living areas and garage. Sequentially, the growth of mold and bacteria can be very detrimental to the health and safety of everyone in the home. Mold and bacteria can survive and grow in moist and damp areas. Mold comes in different forms and it also comes in different colors including black, white, purple, orange, and green.
It may or may not be recognized without the help of a professional. The most important thing is identifying the water damage to alleviate any other issues that will arise as a result of that damage. Ultimately, it must be taken care of in the proper manner by professionals. There are many factors to reconsider when you are looking at the short term and long-term effects of water damage and what it can do to the infrastructure of your home.
You must take into consideration all of these factors when deciding to address the water damage:
Water can lead to deterioration of furniture and home appliances. Water damage to various upholstery such as furniture, padding in the walls and clothing can be easy to clean or clear out or it can be very difficult. The damage to these various materials can lead to the growth of mold and bacteria. This can easily be addressed by household appliances that acquire water damages can be very dangerous and there is a delicate approach that must be taken when touching these items.
It is important to understand that once you have water damage to your appliances, you must take great precaution when inspecting the damage and trying to use the appliance. It is natural human instinct to assess damage by plugging in items and try to test the amount of damage there is. Although, this is something that you would want to do, it is important to leave to the professionals. The professionals are certified and trained to address the issue and have years of experience in resolving the issues so that you do not have to deal with the issue again. Also, they have learned through trial and error what works and what does not work with properly addressing the issue of mold.
Below is a list of precautions and things to do if you come in contact with mold after experiencing water damage:
Inspect the appliance for bacteria and mold by a professional once you notice any water damage. You will notice the mold by its strong smell. It is similar to a musty odor that you will be able to easily identify. You will also be able to identify the mold also by discoloration of items.

Do not try to use the appliance or plug it into the outlet. This can lead to circuit damage and potentially lead to a larger disaster such as a fire. The outlets should be left alone and assessed by a professional if you do not have the proper knowledge.

Assess for mold growth as a result of the water damage. Knowing that mold grows in humid and moist places, it is extremely important to know when it is present and when to avoid contact.

Use air conditioning to increase the speed of drying the water in the vicinity where damage has occurred

Feel free to assist in getting rid of the excess water by mopping or wiping down the affected areas. Using various solution combinations can give you assurance that the mold will not start growing again.

Replace furniture unless you can clean it and get rid of all mold and bacteria.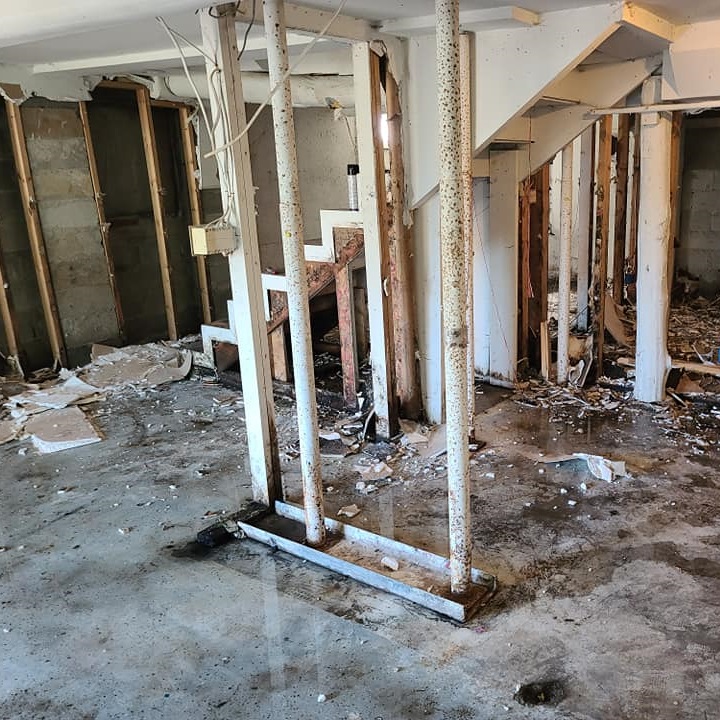 Water damage can lead to the destruction of the framework of a home or structure. The ceiling and the walls that experience any water damage can be very difficult to cover up, paint or repair depending on the severity. Once water comes in contact with the surface, it should be addressed as soon as possible. The water affecting the ceiling can cause it to bubble or hang due to the accumulation or puddling of water. Water damage to wood causes it to rot or weaken causing the foundation of the house to be very weak.
The same can occur to concrete foundations as well. When concrete accrues water damage, the water can percolate through the permeable structure. Not only does the water seep through but it can eat at the concrete causing a very weak and unstable home. The damage to the structure of the home leads to mold growing in those crevices. It is best in that situation to make sure you prevent water of any sort to the framework of your building.
Once water damage has disturbed the electrical and mechanical component of a home, you must keep in mind how dangerous it is to have water near any electrical circuits and the effects of it. When water comes in contact with the heating, ventilation and air conditioning (HVAC) system, you must evaluate the severity of the water damage and how it will contribute to electrical disturbances in your home. Electrical wiring, ventilators, generators and all power circuits are affected and can lead to various results which include electrical shock, burns, electrical fires and even, death. When there is heating of the electrical and mechanical systems, it could potentially lead to humidity or water issues.
These issues can also lead to mold growth due to the design and installation needed for the mechanical levels and there is a direct correlation to altering humidity levels that lead to the growth of mold.
Below are a few tips on preventing electrical disturbances:
Shut off all the power. If you have knowledge of the location of the fuse box, then it is important for you to shut everything down in order to prevent any further damage.

Remove or replace outlets. By doing this you can eliminate any risk associated with electrical shock or even death due to contact if an outlet is not complete dry after water damage.

Use of a voltage meter can help you measure the outlet to make sure you measure the outlets and the voltage associated with it. You should never use an outlet when water damage has occurred, especially when you are not sure that the outlet is dry.
Mold is the result of mostly all water damage that can occur. In order to understand the effects of mold, it is important to know what mold is and how it can spread. Mold is a fungus that can be spread through spores. There are different types of mold ranging from ones that effect allergies, change its form depending on temperature and mold that changes its color depending on location and over time. Mold grows everywhere and I mean everywhere!
Mold grows in warm and moist environments and love moisture which is a key component in its survival. Mold can grow in colonies and can change its form when conditions are not advantageous. Both indoor and outdoor growth is normal but can be completely irritating to our immune systems. It can affect your allergies, respiratory system and individuals affected by underlying health conditions.
Below is a list of places and spaces where mold can be found:
Kitchen: Cabinets, Refrigerator, Sink
Living Area and Bedrooms: Ceiling, Walls, Furniture, Window Seals, Air Conditioning System, Heating Ventilators, Closets
Bathroom: Sink, Toilet (Behind), Shower
Garage: Crevices (Areas in the concrete where water can seep in), Washing Machine (in some cases, people will place their washing machine in the garage but mold can accumulate in a laundry room as well)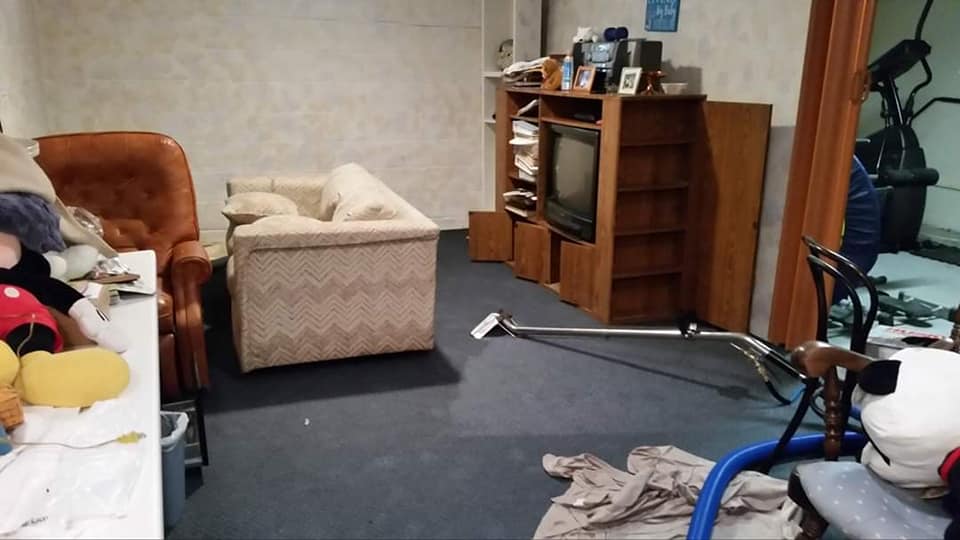 It is important to address the water damage in your home. You must look at the risk associated with trying to assess and fix the water damage yourself, bringing in a professional to restore water damaged areas and even neglecting areas with mild, moderate or severe water damage.
The main factors to consider are financial costs and health and safety.
Good communication. He made our house look better than when we bought it!
We had a major problem in our basement. Over the past month or 2, there was a sewage backup. Tracy and his team didn't hesitate and got right to work making my home safe again for my family. He's been awesome and bent over backwards helping even with things he didnt have to. (tornado knocked down a tree the day before the dumpster was being picked up. He took care of it for me!) My basement is looking great.
Great company – gets the job done. I refer all of our Tennessee work to them.
Many jobs have been completed for my company on many different occasions. First southern always completes the job and it is above satisfactory.